NEWS RELEASE FOR IMMEDIATE RELEASE
Slow internet speeds could be an unintended consequence of Christmas gifts
Fortunately, a St. Pete company is offering a Wi-Fi solution for 35 percent off MSRP
ST. PETERSBURG, Fla. – With all of the new connected devices being gifted this Christmas, it could mean much slower internet speeds for everyone, as many home Wi-Fi routers are not capable of the added workloads. However, a St. Petersburg company is offering a Wi-Fi solution for 35 percent off MSRP between now and the new year.
An IT company based in St. Petersburg is offering a Wi-Fi Solution to improve internet speed as the number of connected devices used by each household continues to increase, especially during the holidays.
"As people add more devices from cell phones and tablets, computers, laptops, Playstation 5/Xbox, to smart TVs, Amazon Alexa, Google Home, Nest, Doorbell Cams, Sonos, home security systems, watches and so much more, their internet speeds and connectivity will suffer, especially if they're using most traditional routers," said Jeff Birner, CEO and founder of IT Consulting St. Petersburg. "We especially see increased demand during the holidays, as more and more people give technology-based gifts and their routers simply aren't capable of handling the increased demand, with Service Providers typically installing these routers in the least optimized room of the home."
According to the Annual Internet Report by Cisco, the average home will have more than 13 networked devices by 2022, while Comcast says the average household already has 12 connected devices, with some households already having as many as 33.
Fortunately, IT Consulting St. Petersburg is an exclusive partner of a recently updated router called the Portal EV, which can allow up to one hundred connected devices at the same time. Connecting two routers (Meshed) will create a home network of up to 6,000 square feet of optimized Wi-Fi.
The Portal EV is a wireless mesh router that includes multi-channel Fast Lane technology and nine built in antennas, which provides a Wi-Fi experience you do not have to worry about. Additionally, each stand-alone Portal EV router has been tested to provide up to 3,000 square feet of coverage, whereas a dual Portal EV system can provide up to 6,000 square feet of coverage. The coverage is certainly important but, the connectivity is needed by all users, especially remote workers.
"The multi-channel DFS (dynamic frequency selection) enables the signal to effortlessly roll over to the next free channel, escaping the log jam or blue circle of death that remote workers, gamers, and streamers dread," Birner said. "Our Portal EV, stand alone or mesh, also solves the issue of dead zones commonly found in the home."
As 2020 comes to an end IT Consulting St. Petersburg is offering a special of 35 percent off all new sales of the Portal EV. People interested in purchasing the Portal EV can call 1.833.ITC.WIFI or visit them online by clicking here. Code for applicable discount is "ITC35". Typically ships same day.
"If you are already struggling with Wi-Fi and you're giving or receiving any connected device, please consider the Portal EV as an essential tool for a better WIFI experience." said Birner.
About IT Consulting St. Petersburg
Founded in 2017, ITC is based in St. Petersburg, Florida with a dedication to offering the best information technology services with a focus on network infrastructure to the consumer, business and institutional user.
-30-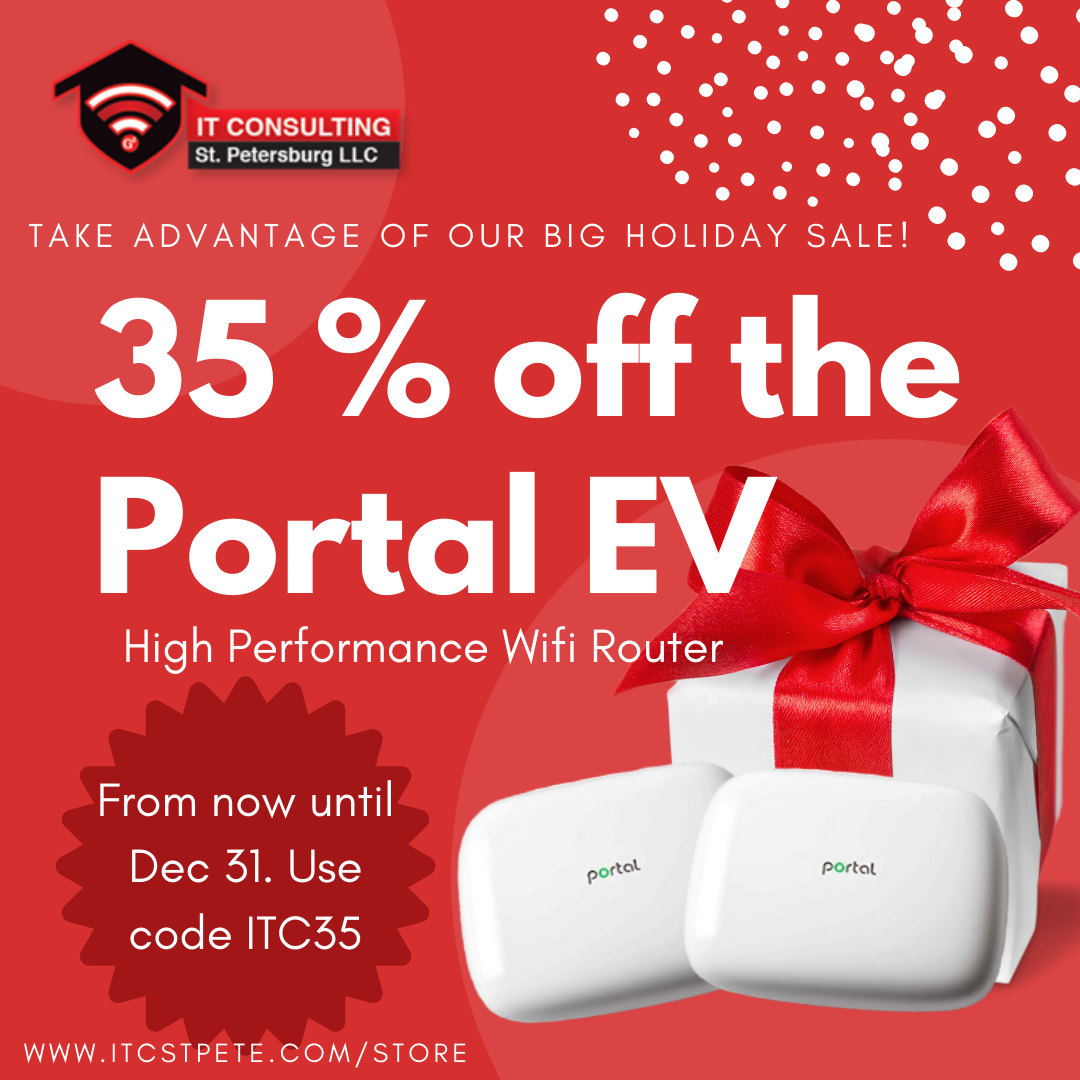 Follow Us On Social Media.